A Pause for Summer with Silvia Gil-Roldán
From Tenerife in the Canary Islands, Silvia Gil-Roldán is a talented photographer with a keen eye for capturing the essence of light. Silvia masterfully interprets a selection of our portable lamps to evoke the feeling of nostalgia and the softness and tranquillity of the warm summer days. Immersing the emotional depth of the season through a series of photos.
Silvia as a photographer, how would you define your style?
I would say natural is the best word to define my style. I really enjoy my pictures to be as natural and simple as possible. I love capturing everyday scenes that are not overly posed. My goal is to evoke a sense of closeness and tranquillity through my work.
I draw a lot of inspiration from light. If there is no sun, I don't feel as creatively inspired. Creatively speaking, I am in my element when I'm working with warm golden light, often accompanied by a palette of warm or earthy colours.
What made you decide to dedicate yourself to photography?
I've always carried a camera with me since I was little, documenting my life extensively. However, initially, I didn't consider turning photography into a professional career. I studied advertising and I worked for many years as an art director in some advertising agencies and design studios.
The decision to start photography professionally came when I was working as an art director in an agency in Barcelona. Sometimes we hired freelance photographers for certain projects, but I wasn't getting the desired results. That's when I thought maybe I could take those photos myself. So, I took the leap. I did a postgraduate degree in photography, became a freelancer, and started juggling both roles. However, in the end, my design studies form the fundamental basis of everything I create with my images and help shape my perspective through the camera.
Since 2018, I have had the fortune of dedicating 100% to photography. I consider myself very fortunate for the opportunities that have come my way, and I have had the pleasure of working with clients who resonate with the emotions I aim to convey in my pictures, combining space compositions with the naturalness I seek.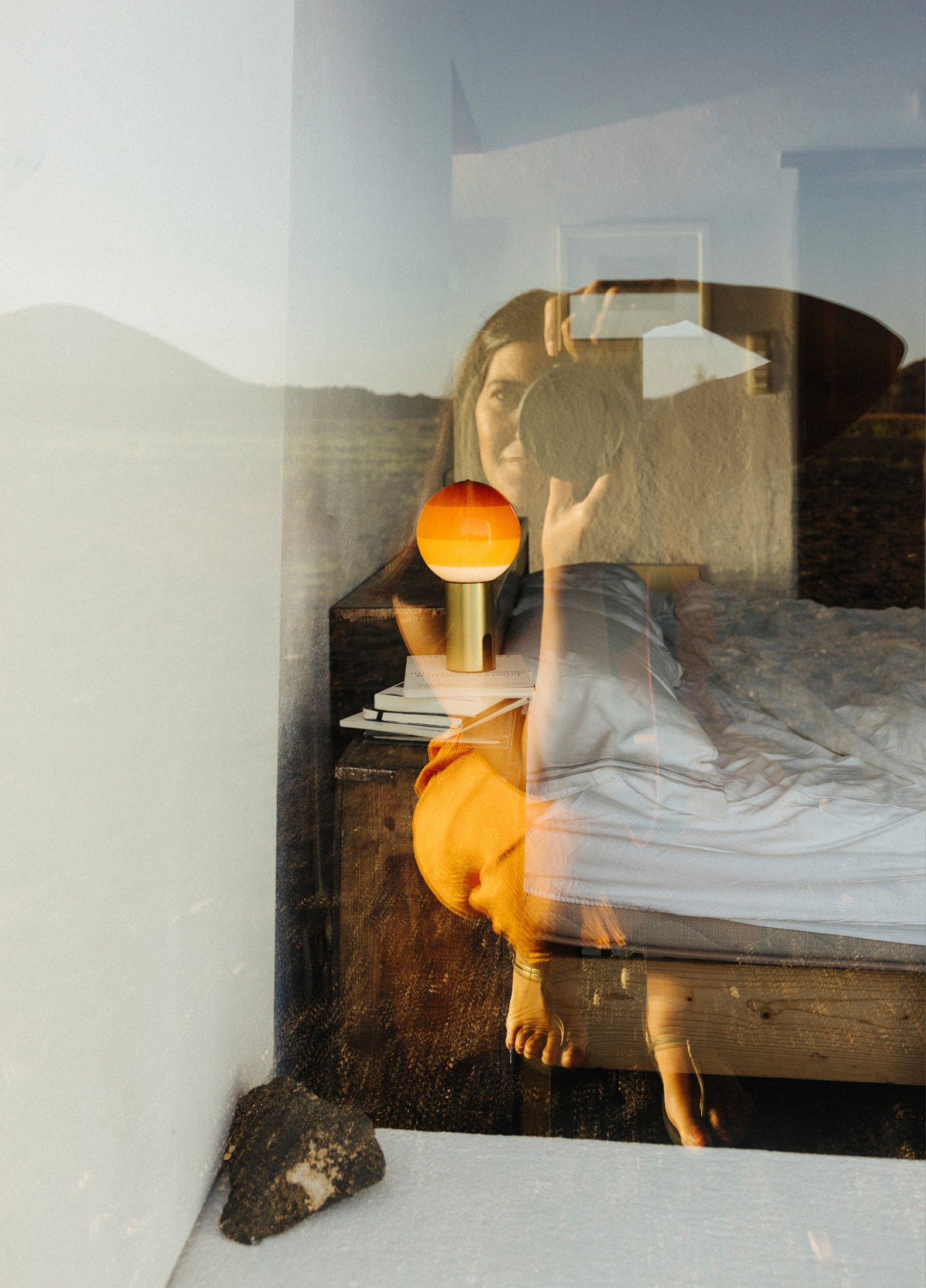 Could you tell us what the conceptual meaning of light is for you in your work?
Light is everything in my photography. It enhances the colours and beauty of spaces. I believe that when the morning or afternoon sunlight illuminates objects, spaces and people, it creates a beautiful setting that is difficult to describe.
Where do you find your inspiration and what references do you like to explore, if any?
My inspiration, primarily comes from the sun. On a cloudy day, my camera stays at home and my mood is different. Through light, I believe you can find beauty in something that may not initially appear beautiful or might go unnoticed. I always seek that light and often organise my projects around it. I also have a great appreciation for American documentary photography, and I find inspiration in the works of artists such as Fred Herzog, William Eggleston and Saul Leiter. Their work is really colourful and warm, playing with the light. In the art world, I particularly admire Hopper.
What challenges have you faced as a creative working with natural and artificial light, and how have you overcome them?
The main challenge of working primarily with natural light is the weather, which is not always favourable and sometimes beyond our control. There are photo shoots where I go without lighting equipment on set, and others where I do use artificial light, which allows me to feel more relaxed. When the set is properly lit, the results can be incredible, but I always prefer to use natural light whenever it's possible.
Silvia, could you share with us your process behind using artificial light to capture a warm and tranquil essence to your images?
When I don't have the opportunity to work with natural light, I typically use a tungsten fresnel light that has a colour temperature of 2800-3200k. It concentrates the light and generates a warmer tone similar to the sunset.
As a photographer, which features did you find important to highlight from these portable lamps?
The most remarkable aspect of the lamps featured in the portable summer campaign is their design. They enhance the visual appeal of the spaces and, with the light they emit, make them more welcoming. I particularly appreciate the ability to adjust the light across three different levels. When lighting spaces at home, I love having a dim light, but I also appreciate the option to increase the brightness, while keeping it in the same location.
What did these lamps express to you? How did you translate that into your imagery?
The lamp with which I feel most connected to is the Dipping Light in amber–gold. Perhaps it's because its warm light closely resembles sunlight. It creates an environment that I love and brings me a sense of tranquillity. With this campaign, I aimed to capture the serenity of summer, the ability to be in a welcoming environment, either alone or with company, and to experience a sense of calmness away from the stresses of everyday life. That's why I chose the island of Lanzarote and the peaceful haven of Buenavista Lanzarote for the campaign.